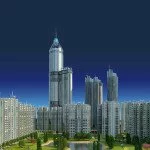 Supertech
introduces quality into every aspect of the Company ranging from Process, Human Resource, Technology and Services to create an all-encompassing quality culture. With quality consciousness and quest for continuous up-gradation for ultra modern life-style and luxurious living standard, a world-class leisure and residential community is spread out over approx 50 sprawling acres. Capetown has been envisioned as a complete, self-contained campus area built around the best of facilities where every home is designed to the most demanding standards – Well planned (2,3,4 bedroom) apartment towers spread over a green area, Cape town from Supertech is one of the best housing developments in the city. Capetown will comprise of upscale, well appointed apartments with modern conveniences such as a clubhouse, jogging track, swimming pool and more.
USP of the project :
Attractive offer-NO EMI TILL POSSESSION and PRICE REMAIN's SAME AS IT WAS.
Location Map:
Site Map:
Floor Floor