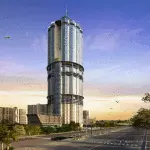 Height titillates. Height satiates your desire to fly. It's at a height where you come alive. With height, you break away from gravity and feel free. Supertech presents NorthEye, the tallest residential building in North India. Don't judge the height of NorthEye just in metres or merely by the number of its floors. With NorthEye's unprecedented levels of luxury, comfort and services, live above everyone else. Figuratively as well as symbolically. The prices listed below are for 2/3/4 BHK apartments however, the BSP for studio apartment is @ 8990/- per sqft.
USP of the project :
It has Solar Building Design which means the architects and engineers have taken utmost care to take into consideration the solar thermodynamic principles and the solar path,this will take care of local climate and distribute solar energy accordingly.
Location Map:
Site Map:
Floor Plan: