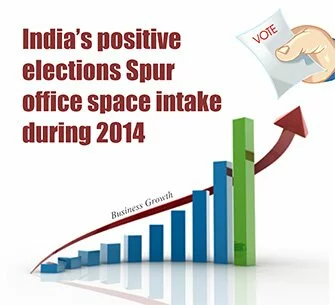 Office space consumption in India has seen a steep rise in the last year and this trend is likely to continue for the coming two years as well.
Driven by strong positive sentiments after the election, there is good intake for office space as its absorption has increased by 28 per cent to 32.5 million sq ft during last year in India's eight major cities, as per the property consultant Cushman & Wakefield.
The property consultants have said that the office absorption in these eight cities — Ahmedabad, Bengaluru, Chennai, Delhi-NCR, Hyderabad, Kolkata, Mumbai and Pune — stood at 25.35 million sq ft during 2013 and hence when compared with figures for 2014, there is a sharp rise in the office space consumption.
As part of this assessment, the city of Ahmedabad experienced the highest increase of 163 per cent in its net absorption of office space, followed by Bengaluru with 87 per cent rise. This is seen as a positive sign for the growth of commercial real estate in India.
On the other hand, the office markets of Hyderabad, Delhi-NCR and Chennai also experienced a sharp rise in the absorption of 50 per cent, 20 per cent and 15 per cent, respectively. This trend is likely to continue through the year 2015 as well.
Driven by a growing number of companies looking for relocation to different locations of the country as well as adoption of workplace transformation strategies, the demand for office is likely to remain robust in the coming two years time frame.
Additionally, there is this trend of increased hiring and growth in demand for new age development that will lead to further positive correction in absorption volumes as far as office space requirements are concerned.