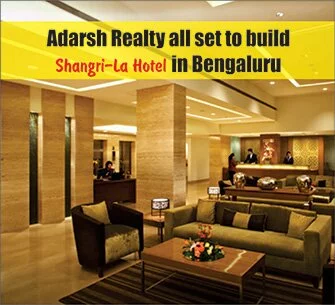 Being developed with an investment of around Rs 600 crore, this hotel can create a special place for itself in the luxury hospitality segment of Bengaluru.
In its bid to create unique value proposition, Adarsh Realty and Hotels, the hospitality arm of Adarsh Group, is all set to invest around Rs 600 crore and build a Shangri-La branded luxury hotel in the city of Bengaluru.
As per the market reports, the 370-room luxurious property, located in the heart of IT hub of Bengaluru's Outer Ring Road, is expected to be finished in the next two years. Adarsh reality will fund the project through a combination of debt and equity options.
It is interesting to note that when completed, this will be the third Shangri-La hotel property in India, and second in the city of Bengaluru. It may be recalled that first Shangri-La hotel opened in Delhi in the year 2005. There is no doubt that Bengaluru is the IT hub of India. Off late, the city of Bengaluru is also moving ahead and becoming an important destination on the manufacturing map of India. And hence, creation of such a luxurious hotel will quench the city's need for quality accommodations.
Keeping in mind its growing status as a favored destination, Bengaluru has also seen an increased supply in the upscale category. Though the supply has almost doubled in the last four years, the market has done well to meet the demands.
Realizing this deal ahead, Hong Kong-based Shangri-La has already signed a management contract with Adarsh Realty to operate three new hotels. As part of this contract, two hotels are branded as the Shangri-La brand and one under its mid-scale brand, Traders Hotel, which was rebranded as Hotel Jen last year.