Wave Edenia Noida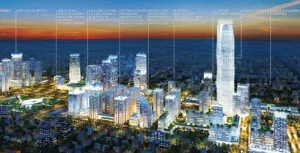 At a time when you are looking for your own special space of eternal bliss and comfort, Wave Edenia is the right choice for you and your family. This is creating that perfect setting for you and your family to have that much needed eternal bliss.
Keeping in mind the flavor and high-class taste of its customers, Wave Edenia is set to rewrite all records and it covers a splashing 152 acres of prime real estate, it is the largest expanse of commercial land in the entire region within Noida.
Adding to its feature set is the fact that this project is 40 million sq ft of built-up area, it is also the most massive commercial development ever constructed in the center of a developed and fully functional city.
In addition to the above, there is the most important factor, the geographical location – this is the finest in Noida. Especially when you want nothing less than perfect, its close proximity of Sector-18, Noida. Wave City Center's position is really amazing and quite unbeatable.
Combine these awe-inspiring statistics with the traditional property mantra – 'location', and you'll easily understand the reason why all the shrewd investors in Noida (keen golfers should note that Noida Golf Course is a mere 2kms away from this location) are instantly attracted towards this particular location.
The most exciting part of this project is that the Wave City Center is next to the Sector 32, City Centre Metro station and the extensive road system connects directly to Delhi, making it available at a distance of mere 10 minutes. And that's why Wave City Center is ideally poised to be the most favorable destination.
Wave Edenia Sector 32 Noida – Features
Spread over two Sectors 25A and 32, Noida.
20 mtr / 40 mtr Green belt around both sectors.
Adjacent to Noida City Center Metro Station.
Diverse product mix with all conveniences at a 5 min distance.
Compliance to LEED Gold Certification.
55% Open Area for Roads, Parks & Green Spaces.
Fully integrated private Rapid Internal transport system within the project • Parking for over 43000 cars.
Hi-tech round-the-clock security systems.
Conceptualized by the World's best consultant.
Eco-friendly infrastructural systems with Rain Water Harvesting and Waste Management.