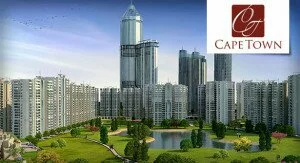 After having created a lot of world class infrastructure, Supertech is now introducing quality into every aspect of the Company ranging from Process, Human Resource, Technology and Services to create an all-encompassing quality culture.
With quality consciousness in mind and in its quest for continuous up-gradation for ultra modern life-style and luxurious living standard for its customers, a world-class leisure and residential community is spread out over approx 50 sprawling acres. This is a great opportunity for you to create that much needed value for yourself and take big leap in your life.
Supertech Capetown has been envisioned as a complete, self-contained campus area built around the best of facilities where every home is designed to the most demanding standards, caters to your needs and create a great value proposition for your family.
Taking care of special customer requirements, this project has well planned (2,3,4 bedroom) apartment towers spread over a green area, and this is giving Cape town from Supertech a category of its own and is surely one of the best housing developments in the city.
This is sure to drive great essence of belonging to you and encourage your family members to have an easy closer to nature lifestyle that is so hard to get now.
Delivering a super cool lifestyle for its customers and their family members, Cape Town from Supertech will comprise of upscale, well appointed apartments with modern conveniences such as a clubhouse, jogging track, swimming pool and more. So this is set to become one of the most sought after places in this region.
There are lots of other features in the Supertech Capetown project
For More Information Visit Us: http://www.investors-clinic.com or Call Now: 9266633040