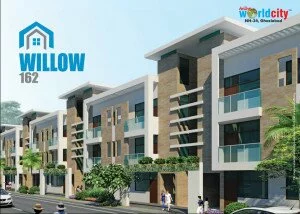 At a time when people are looking for that much needed old world charm in modern day living, it is really not to be found in many places and residential offerings are mostly being made keeping in mind the current and modern day taste.
But this project brings a different outlook towards this thought of bring in best of both the world together. This is where you will find that old world look built intrinsically into an ultra modern real estate offering.
Aditya Willow 162 is located in a 185 acres of integrated township and yet cozily wrapped up in a world of its own. It is close to work and every convenience, yet insulated from the city's bustle, it brings back the charm of the days when a house was truly a place to come home to.
This project is also offering a great and unique location for its customers where they can be sure of a perfect location where they will have everything within their reach and not worry about the distances to major locations of the city. This is also a great opportunity to secure your investment and create wealth for you and your family in the future friendly manner.
Aditya meticulously planned independent homes of 3 BHK on plot area of 162 sq mtr. Willow 162 promises to make life more enjoyable, while being tucked away in a tranquil universe of its own. Come and discover a home that de-stresses you completely.
For More Information Call Now: 9266633040