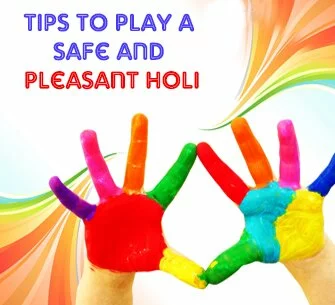 Holi- the festival of colors- is just a few days away. Colors are synonymous with the essence of this festival but, with the increasing use of synthetic colors, they can also prove to be dangerous. In the midst of vibrant color splashes, Holi special food and the all jazzed-up surroundings, the festival might also bring troubles, if not celebrated with safety.
Here are a few tips to help you celebrate this playful festival safely:
Say No to Synthetic Colors- The use of industrial chemicals in Holi colors was brought to attention a few year back. Ingredients like engine oil, lead oxide, copper sulphate and chromium iodine used in these colors can cause extreme skin allergies. Though these are the most lustrous ones in the market and attract immediate attention, you should avoid these colors. If you are already suffering from skin allergies, avoid going out of home in peak celebration time.
Use Organic and Homemade Colors- Herbal and Organic Colors are available in the market nowadays. Though these are costlier, their price is justified as they contain minimal amount of chemicals or no chemicals at all. However, the safest way is to make your own colors at home. You can use turmeric for yellow, henna or other leaf powder for green and rose petals or gulal for red or pink. You can also mix these with flour or besan to get a lighter shade.
Wear Full-Sleeves- Before stepping out of your home, make sure you put on something that covers most of your skin like a full sleeves top. Needless to say, try and wear the worst of your clothes. Also, apply cream on your face and other exposed areas. Oil your hair properly and use thick coats of paint on your nails. Eyes are extremely delicate and are the most vulnerable in Holi. Wear sunglasses to protect your eyes. You can also wear dental caps to save your teeth from getting stained.
Don't be violent- Holi is the festival of love; so play it with love. Do not be rude to others and don't let others be rude to you. Also, try to avoid over indulgence in bhang or alcohol.
After celebrating Holi, first take baths with plain water only, to wash the dry and rinsable color off your body. Then use mild soap to clean the stains. Do not rub your skin harshly to clean the marks; this will leave your skin dry and damaged. Use good quality scrub or besan to clean the colors.
Following these simple tips before and after Holi celebration, you can make the festival even more enjoyable for you.