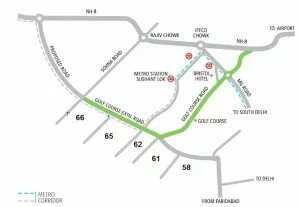 Golf Course Extension Road is gaining significance in today's reality
Gurgaon's Golf Course Extension road is becoming an extremely important artery in the whole of Gurgaon.
Today, it is the perfect time to decide on your investments and Gurgaon's Golf Course extension is coming up as a great destination for such preferred investments. The Golf Course Extension Road, which is relatively a new locality, is gaining amazing importance on the reality map of this NCR region today.
As experts say, this is primarily because it is easily accessible to NH-8 and South Delhi via the Gurgaon-Faridabad Expressway and of course is becoming the center of Gurgaon as a city. All this is contributing to its success and tremendous amount of interest is being generated by the builder community as well as the end user community in order to secure their chance of owning their best property location.
Taking a cue from the above situation, today there are a lot of developers and promoters are engaged themselves in building golf-themed apartments and luxury villas set amidst green expanses, most of which have secured approval from GRIHA (Green Rating for Integrated Habitat Assessment) as well. All this is seen as a great corridor to encourage investments from the user community.
Geographically speaking, the Golf Course Extension Road starts right from the hotel Bristol Chowk on MG Road and goes straight till Sectors 55-56 and was constructed in the year 2009. Most importantly, today this road connects Golf Course Road to Gurgaon-Sohna Road, which is again a great location to reside and hence provide a better option for living a great lifestyle.
It is important to note that most of the development on this area happened on this stretch in the very recent past. Today's the Golf Course Extension Road includes new Sectors like 61, 62, 65, 66, 67, etc. easing out the busy lifestyles for families and their family members, the road is being developed in line with the concept of walk-to-work with a 200-metre commercial belt which is running almost parallel to it across three new sectors under development.
Providing all the great advantages associated with this locality, Investors Clinic is ideally poised to present some of the best project in this Gurgaon locality such as Supertech, Anant Raj, Unitech etc to its esteemed user community.
For More Information Visit Us: http://www.investors-clinic.com or Call Now: 9266633040
Capital presents its new Residential Project – "THE RESIDENCIES" on Golf Course Extension Road.The project is located at 70A in Gurgaon and offers you with luxury living in natural ambiance. The Residences is a complete holistic township offering unique residential experience along with a wide range of living options. Capital Residences 360 offers 2bhk and 3bhk apartments at very low prices.
Anant Raj Group Presents The Estate Villas at Sector 63A, Gurgaon. Anant Raj The Estate Villas offers 5bhk villas on prime location. The Estate Villas 300 sq yds. With contemporary architectural style and use of the choicest materials including wood and marble, these villas offer an unparalleled way of life for you and your family. Open spaces blend in seamlessly with interior spaces with ample amount of sunlight creating a vibrant setting for your lifestyle. The villa includes 5 bedrooms with attached bathroom, large open living room, spacious kitchen, servant quarters and a multipurpose basement.
Paras Group presents paras irene on sector 70a, gurgaon. Paras Irene is upcoming new project in gurgaon offers 2bhk, 3bhk and 4bhk apartments on prime location. There comes a time in our lives when peace of mind is what we long for. Be it after a long tiring day's work or even after a fun filled family vacation, all one can think of is coming home to a peaceful and serene environment.
For More Information Visit Us: http://www.investors-clinic.com or Call Now: 9266633040